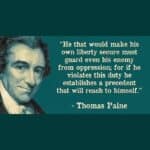 Joined: April 4, 2023 8:58 PM
Last seen: September 25, 2023 3:01 AM
I believe even a moral choice cannot be moral if it is compelled. Consequently, we must protect and expand liberty above all else. We must never let those who are anti-moral become the standard-bearers for liberty. It is therefore incumbent upon moral people to support liberty as co-equal to the highest virtues, or accept that all efforts to build a more ethical society are inherently contradictory and in vain.
Printer, mechanic, farmer