A growing number of THC+ members are using more obscure/privacy-based browsers, and rightfully so, but the security features for many of these browsers conflict with sites that require logins to access protected files. (Us!)
In these cases, the easiest option is to use a podcast app, and to get THC+ set up in it.
However, most of these browsers do have settings that will allow you to use the THC+ without any problems. It's generally going to have to be the responsibility of the user to understand the features/settings of their chosen browser, but as an example, here is a guide for accessing the THC+ website through the DuckDuckGo mobile browser:
While on TheHighersideChats.com homepage, click the 3 dots that open your browser settings, and make sure "Fireproof Website" is checked.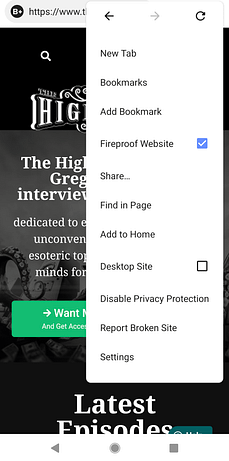 2. Login as normal, or if you have already, you should enter into a loop that brings you back to the main homepage. It seems to take multiple refreshes, but if "Fireproof Website" remains checked, refresh until you're brought to the Plus Member homepage, which currently looks like this: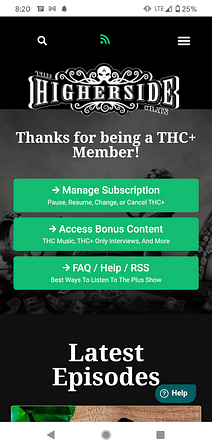 3. That's all! It's helpful to keep "Remember Me" checked as well, so that login should be automatic and saved.