We recommend using the Podverse podcasting app because is an open-source podcast app for Apple iOS and Android mobile devices that also supports password-protected RSS feeds like the THC+ RSS feed.
There are many different podcasting apps available today, but only a select few support private password-protected RSS feeds.  
If you prefer to use a different podcasting app, and it is working for you with the THC+ RSS feed, great. If you encounter issues while using another podcasting app with the THC+ RSS feed, please request support from that podcasting app vendor as we will not be able to provide further support in those cases beyond ensuring that you are able to login to our website with your THC+ username and password. 
A Note About Apple's Podcasting App:
Apple laid the technological foundation for podcasting in the early 2000s with the invention of the iPod and the adoption of RSS feeds linked to audio files. Unfortunately, Apple has recently made changes to the way they support podcasts by splitting their iTunes app into 3 separate apps and creating a standalone app for podcasting called Apple Podcasts. Thus far, the Apple Podcasts app has been pretty buggy and seems to be a step backward from the way the iTunes app delivered podcasts. We've seen a dramatic increase in support requests from THC+ members having various issues when using Apple's Podcasts app and have decided to recommend Podverse going forward for all mobile devices both iOS and Android. See Fast Company's Article on this topic entitled "It's Not You – The Apple Podcast App Is A Disaster" for further details.  
Next: Add The THC+ RSS Feed To The PODVERSE App
After installing Podverse on your mobile device, follow the below steps to add the THC+ RSS feed to it.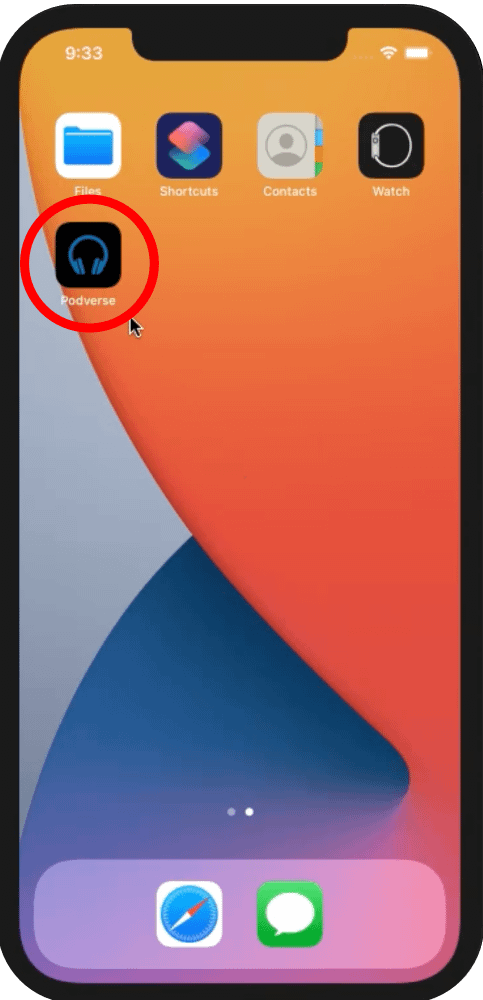 Step 1:
Open The Podverse App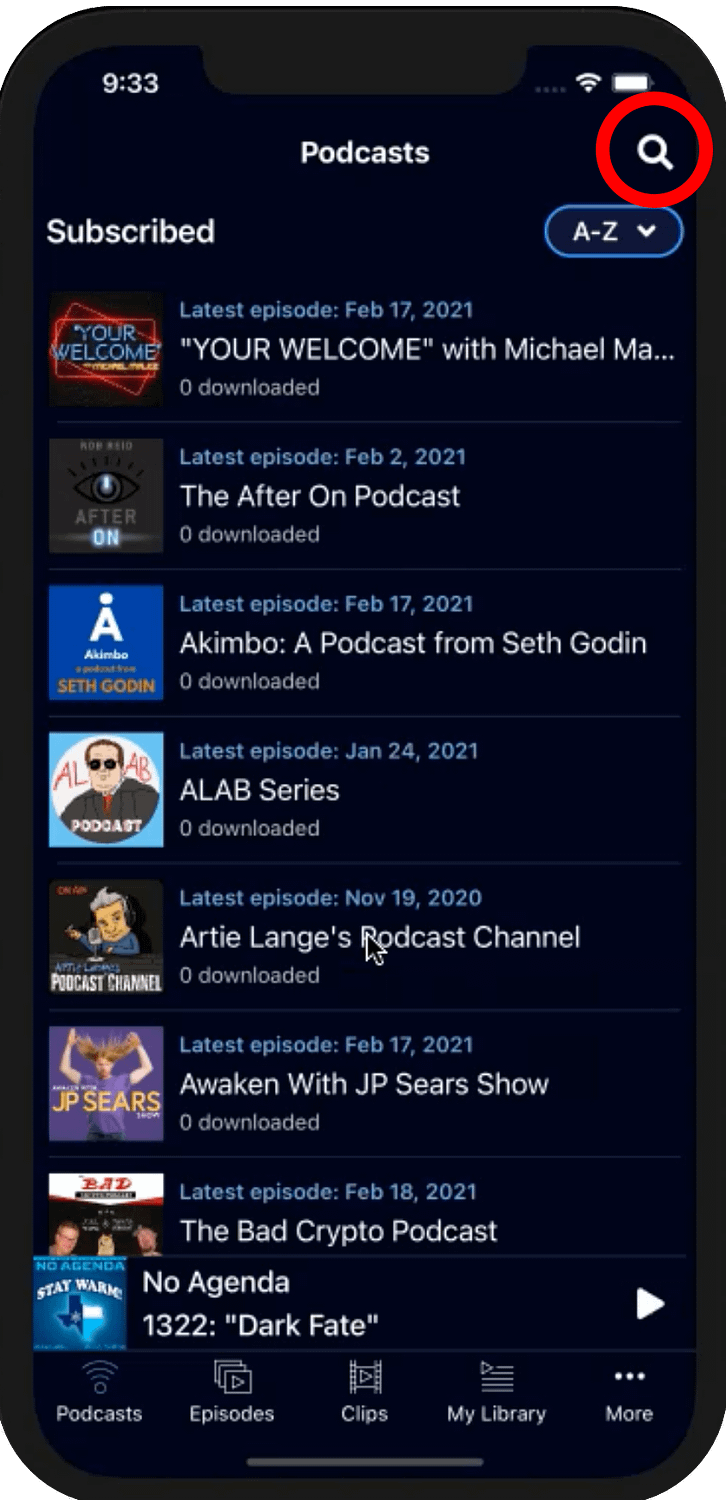 Step 2:
Tap on the search icon in the upper right corner.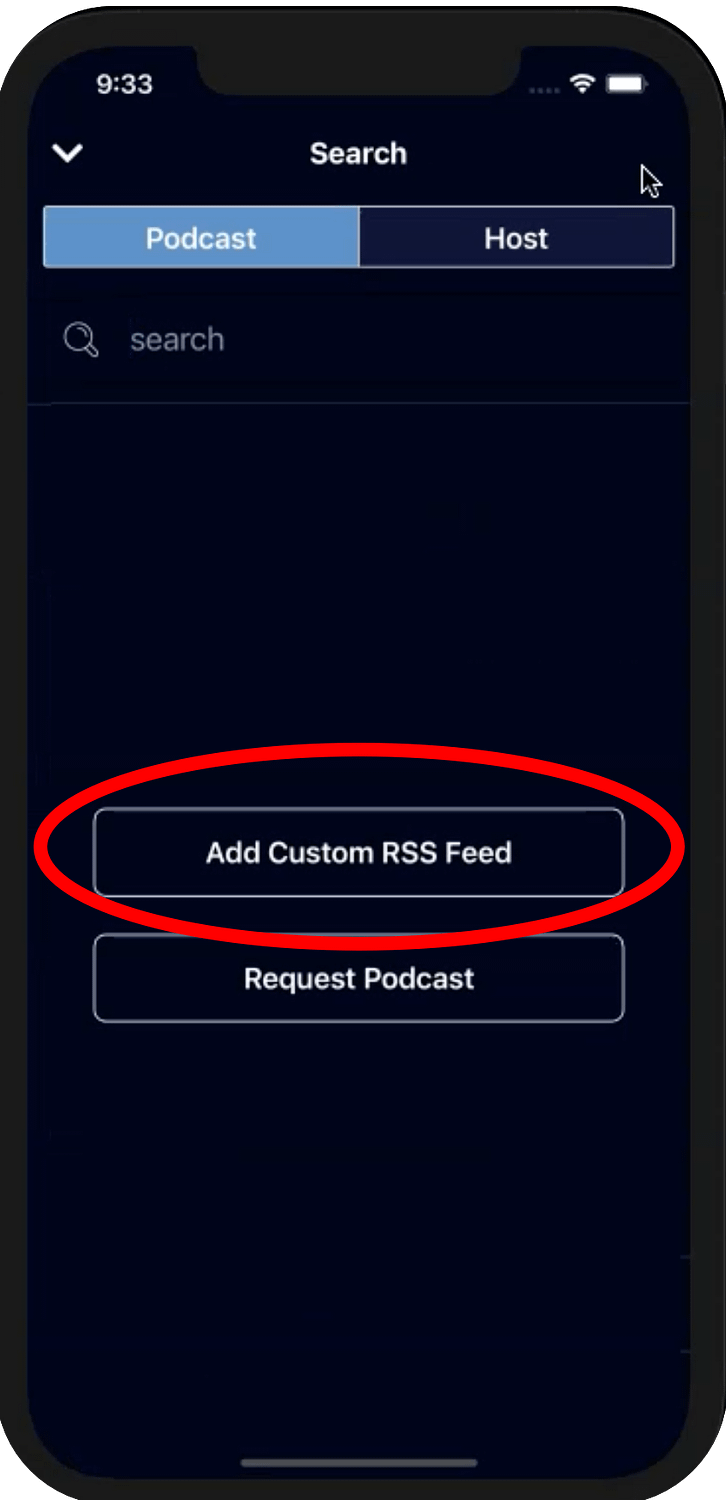 Step 3:
Tap on the "Add Custom RSS Feed" button in the center of the search screen.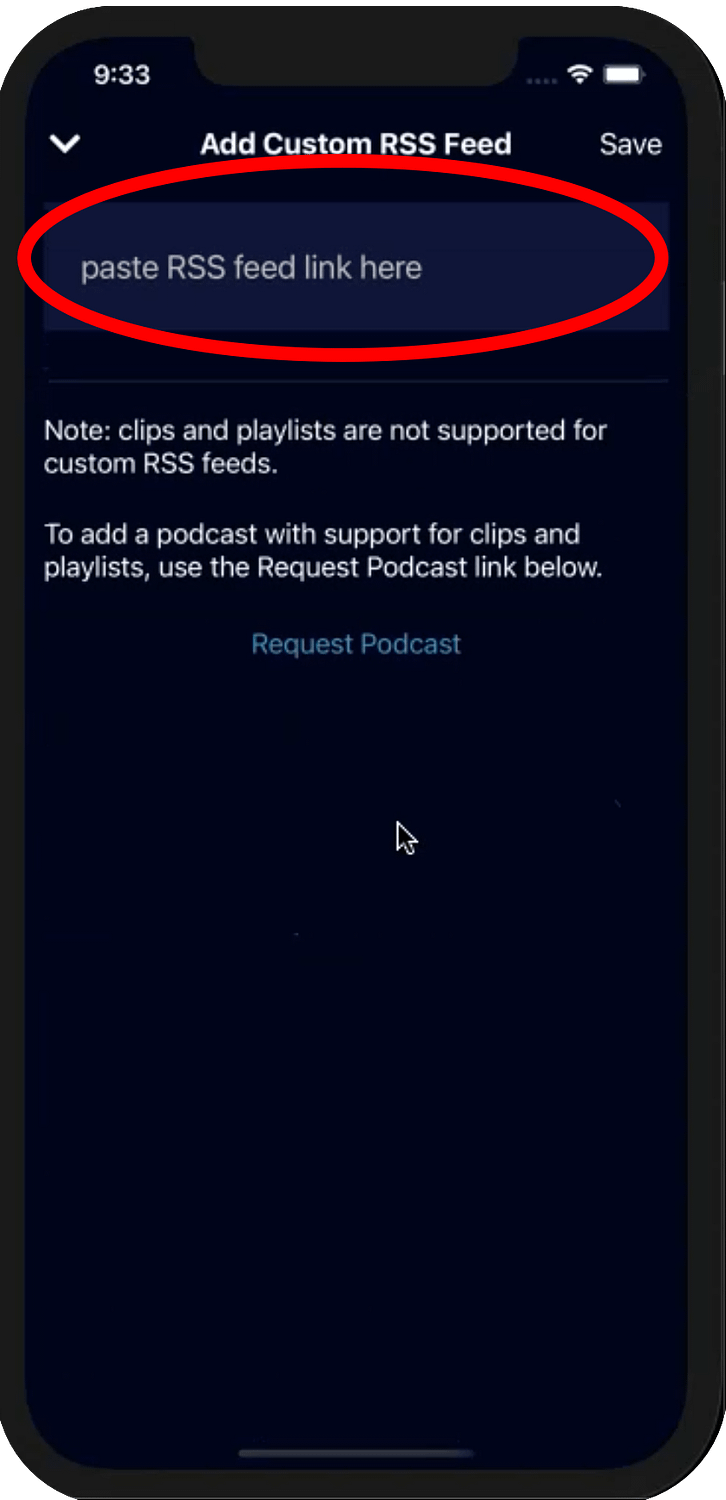 Step 4:
Copy the below THC+ RSS feed link.
THC+ RSS FEED LINK URL:
(tap on the
highlighted
link below to copy it)
https://www.thehighersidechats.com/feed/thc-plus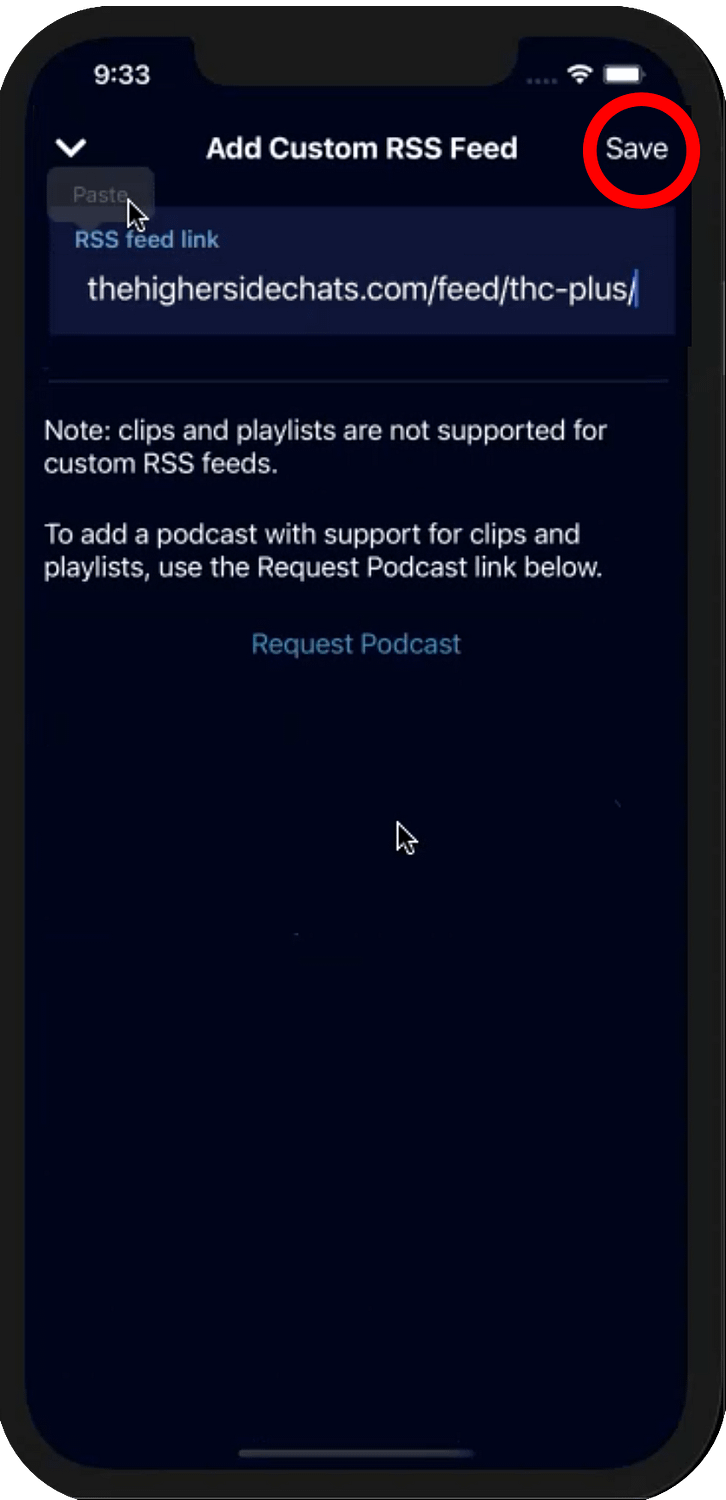 Step 5:
Paste the THC+ RSS feed link into the RSS feed link field. Then click the save button.
Tap in the "RSS feed link" input field TWICE to prompt your mobile device to offer the paste option so you can paste the copied RSS Feed Link into that input field.
After you paste in the RSS feed, tap on the "Save" button on the upper right of the screen to move forward. 
Additional Help For How To Copy And Paste On Mobile Devices:
(Click The Link Below For Help With Your Device Type)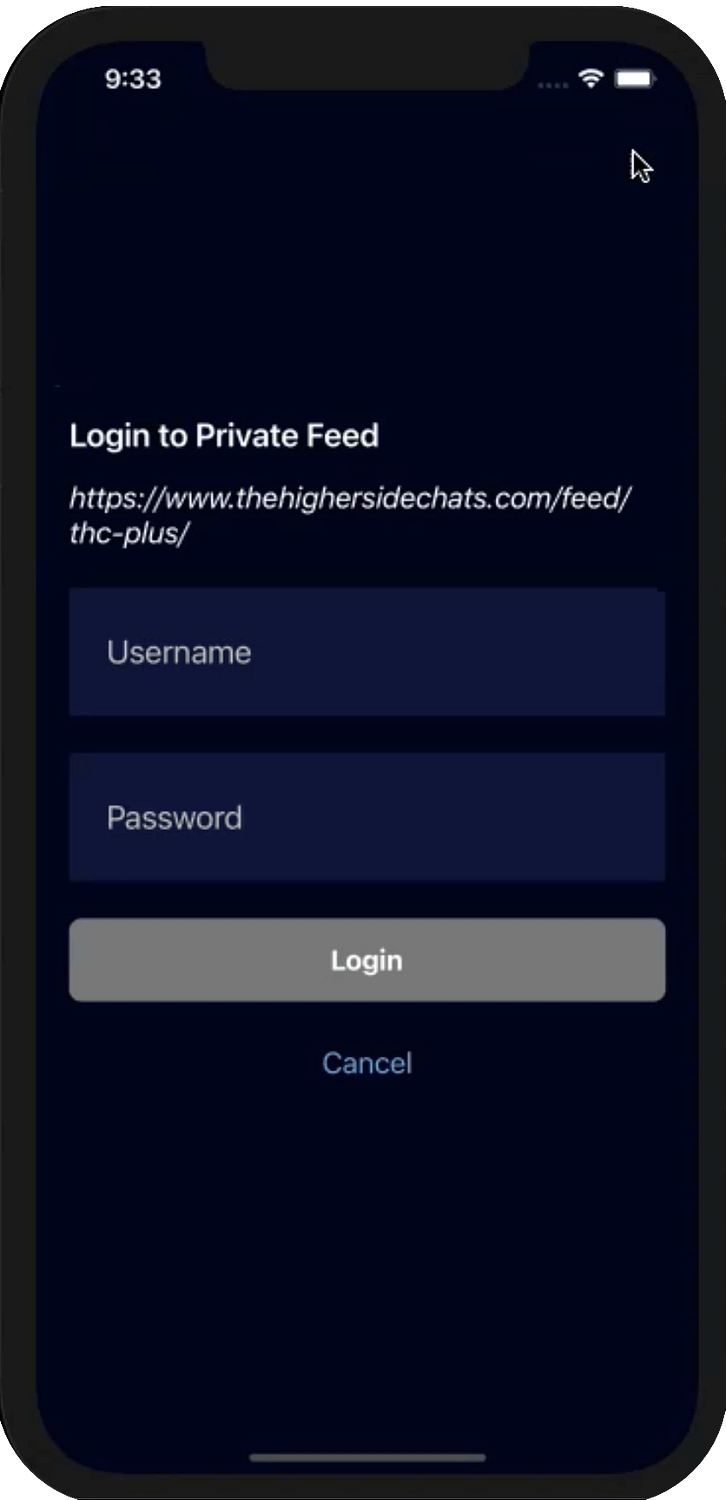 Step 6:
Enter your THC+ username and password. Then tap on the login button.
When you signed up for THC+ you were asked to specify a username and password. 
If you don't know your username, the email address you specified when signing up for THC+ will also work in place of your username on this login screen. 
If you don't know your THC+ password, you can attempt to reset it here using the email address you specified when signing up for THC+.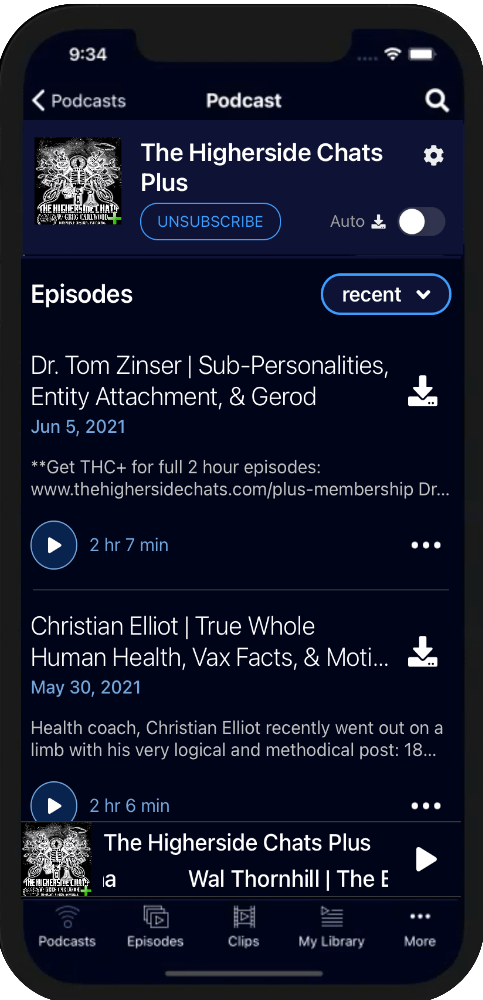 Step 7:
Verify you are now able to view and play THC+ episodes via the Podverse App.
At this point, you should be subscribed to the THC+ RSS feed using the Podverse app. 
You should now be able to see the episode list and click the play button for any THC+ episode. 
The Podverse app should automatically load new episodes as they are released so you only have to open the app and start listening when ever you want without having to login first. 
The Podverse app should also remember your stopping point in each episode so you can easily pick up where you left off listening to various episodes over time. 
Having Trouble Completing The Setup?